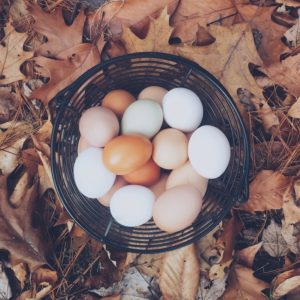 Burns Poultry Farm is a family farm owned and operated by Nathan and Wendy Burns, near Freetown, PEI—a family farm which they bought from Nathan's father in 2001. They have a 32,000 laying hen operation and raise their own replacement pullets, and also have a federally-inspected egg grading station.
After spending years hiring and training employees who did not work out, they hired two local intellectually disabled men, and these two men have been an excellent labor solution for their operation.
In 2011, the Burns family needed staff for their egg grading station. They partnered up with Community Connections to hire six individuals to operate the machinery and grade and package their eggs. This crew continues to grade eggs on a weekly basis and takes pride in being a part of the farm family.
Nathan and Wendy have also hired Community Connections clients for other types of jobs that need to be done on the farm, including lawn care, cleaning the barns, and assisting with barn renovations. Working on the farm allows clients of Community Connections the opportunity to contribute to the community in a meaningful way, and to learn and enhance valuable life and work skills. In order to be successful, the employees have had to learn to be team players, have flexibility in their work schedule, be able to use discrimination skills, and work at a fast pace. More than 20 clients have been able to have employment on the farm in some aspect or another. This partnership has been a successful one for both the family farm and Community Connections.
"I have no hesitations about hiring people with intellectual disabilities," says Nathan Burns. "Having seen how capable they are—there is a place for them in every industry. It may take a bit longer for the training, but you end up with an eager, dedicated, loyal employee for the long term-often from your local community."