The Associate Family Program is similar to a foster family concept. Community Connections recruit Associate Family members who express an interest in having clients reside with them in their homes. Community Connections provide residential monitoring and case plan supports to Associate Families.
There is a financial stipend provided to Associate Families from the Department of Family and Human Services for the residential care they provide to clients.
ROLE OF ASSOCIATE FAMILY
Associate Family An Associate Family is a person(s) who supports the lives of individual(s) who have intellectual or other disabilities by providing a warm, homelike atmosphere, enhancing community involvement, and inclusion. Associate Families are typically responsible to provide a continuous, supportive, and safe environment. Approved Associate Families are committed to provide support, promote positive life choices, and to encourage independent living skills according to the individual's ability.
Individual(s) placed in an Associated Family homes, have the right to their independence, and should be provided with opportunities for personal decision making and self-determination. There are a number of funding sources that provide compensation for Associate Families. PEI Social Assistance Program (SA) and Disability Support Services (DSP) are commonly used according to client eligibility.
ELIGIBILITY CRITERIA
Individual Criteria
Over 18 years of age.
Training: Example CPR/first aid.
No criminal or vulnerable sector record.
Willing to participate with Agency (case workers, programs, services, and mandates).
No major health problems that may prevent provisions of care proved.
RESIDENTIAL CRITERIA
Own or rent house or apartment.
Furnished bedroom 7ft by 10 ft (Including single bed, dresser, and closet space. The client should have the opportunity to use his/her own furnishings in the bedroom.)
Room must have a window big enough to exit through in case of fire.
Home and vehicle insurance notified of changes in household/vehicle use.
Fire extinguisher, carbon monoxide alarm, emergency plans according to safety code.
Becoming a Family Care Provider
Application for Request to Provide Family Care and supporting documentation is completed.
The applicant is prepared and able to meet program standards as outlined in Associate Family Agreement and complete Associate Family Assessment.
The applicant has no major health problems.
The applicant receives three (3) positive supporting documents/references.
The applicant has no criminal or vulnerable sector record.
The applicant has adequate house insurance coverage.
The home meets certain physical standards.
That there is a need for the home.
Once an Associate Family inquiry is received, a home visit will be arranged to discuss the Agency's expectations, Self-Assessment Application Package, and Associate Family Agreement. This process can be lengthy as it is very crucial in determining family dynamics and suitability. A Residential Coordinator will continue to be involved throughout the placement process and continue to provide support to both Clientele and Associate Family. On-going evaluations and reviews will be completed to help ensure future planning of quality of services.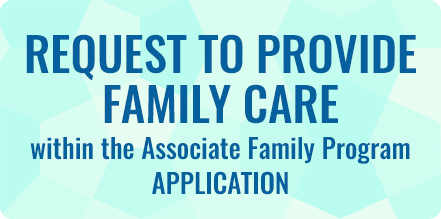 You can also download this form as a PDF and print it at home.
---
Resources
REFERENCE LETTER – Re: Residential Placement/Respite Care Applicant